Having a place for it should-not mean a length of chain and a doghouse.
(If putting the puppy on a chain is your plan you'll do well to keep that a secret from Tim.)
If it's not gonna be a "house-dog" you'll need a safe place to keep it.
If you have doubts, take a look at the Alcatraz Kennels page for some good ideas.
Click here >>>
Alcatraz Kennels
for a look.
Please use this address for road-trip planning purposes, (MapQuest, etc.):
165 Camp Creek Parkway, Gordonsville, Va. 22942
This address is the local Lowe's Store which is about 30-minutes from our place.
There is also a Super Walmart and other stores on the other side of the street.
Both places have nice big parking lots.
There is also an IHOP restaurant and nice Best Western motel in close proximity, (all within sight.)
Remember, a hound hauler DOES NOT go straight from the pick-up location to the drop-off location.
They have a route that they generally follow, making pick-ups and drop-offs along the way.
With a hound hauler your dog's trip could take a week or more.
We've all heard ugly rumors of some hound haulers but don't have any personal knowledge or experience of such things.
Dog hauling requires a lot from the driver and puppies are significantly more work and worry than grown dogs.
Most of these guys take much better care of the dogs [generally] than any airline. Airlines all treat your dog like common luggage.
The only "big time" hound hauler that we've personally dealt with is...
Chuck Thomas (Redwing Hound Hauler) 509-680-2602
He's been hauling dogs for close to 30 years and he covers the entire country.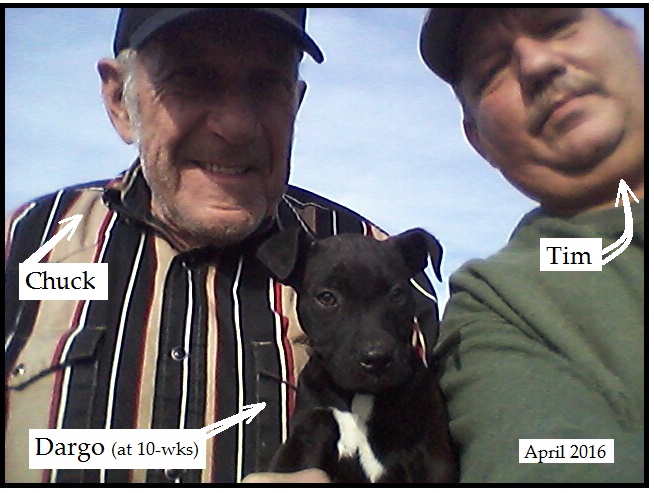 Chuck hauled this puppy to Wyoming for us. It's a nail-biting wait for the customer but the pup got lots of personal attention on the way.
We like this guy and think of him first for coast-to-coast hauling. The one-and-only hitch in the plan is that it sometimes take's awhile for the dog to arrive because his route is so convoluted. He carries lots & lots of dogs, mostly hunting hounds of one kind or another. It can take up to 3-weeks to cross the nation.
I also know of a guy that hauls dogs for folks though until recently his range was just the "eastern half" of the country.
He moved a dog for us to a customer in eastern Texas some time ago.
It was the customer who put me on to him and it seemed a good experience and we think he's okay.
He's told me it's okay to show his name & number here so...
Dog-Haulin' Greg Beyerly, 301-765-4884
He'll help you if he can and it won't hurt to say I recommended him. (Might even help.)
To
Contact Us
<<< Click here to see our contact information.
BUT...... Please don't email us asking if we have pups available.
The answer to that question is always shown at the top of this page & kept current.