The Alcatraz Kennel Project for Patterdale Terriers
For when a dog needs to be kept secure outside...like after a go-around with a skunk ?!?

We've had a few folks contact us to say thanks for showing these kennels. Sharing good info is why we made this page.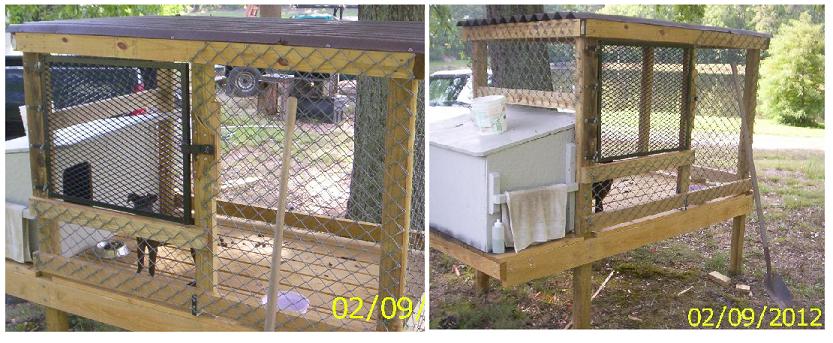 Some years ago a fellow Patterdale owner had a couple of little escape-artists and was lamenting another troublesome episode about the havoc that a loose Patterdale Terrier can create. When he asked if I ever had such difficulties I said my dogs never escape from my kennels and suggested he examine my design.
After building one he promptly declared it to be "The Alcatraz Kennel." We thought the name was appropriate so that is what they're now called when people ask.
In our experience a raised-deck kennel is the best way to keep any dog that must be quartered outside. I got the idea while visiting Lester Hughes (R.I.P.) in N.C. many years ago. The raised deck kennels of the "Old Mountain Man" answered most problems that are associated with keeping high-performance dogs. I soon had a modified design that we've improved on steadily. We've used some variety of this design for over 25 years.
Aside from bringing the dog inside, we've not seen the equal of the Alcatraz for raising pups or recovering dogs from trauma. This design adequately addresses every issue we've faced in over 30 years of raising high-performance dogs. They're also easy to modify for special needs, (a very important feature as time has proven.)
After some years we decided to see if we could help more of our fellow dog fanciers by taking the design public.

We've STOPPED MAKING, SELLING OR DELIVERING THESE KENNELS FOR THE FORESEEABLE FUTURE.

We've moved (again) to a run-down farm that's perfect for developing earth-working dogs. However, it's VERY Run-Down and all our "spare time" is going into getting things fully functional again. All the renovation work (done by yours truly) is effecting every aspect of life here.
We'll report when we're back in the full swing of things and can deliver these things again.

We never made much on these things and we're not quitting our day-jobs in hopes of making a business out of building & selling these kennels. We just want to be helpful without going broke. We know that no good deed goes unpunished and we think we're walking close to that line just by making these kennels available.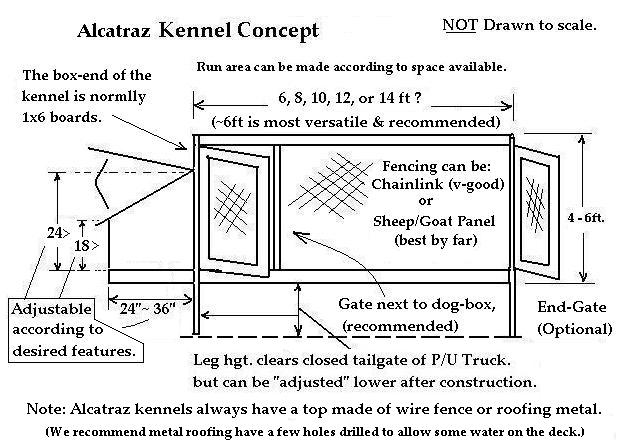 Only the basic design concept is standardized. We build them according to whatever specific needs we are trying to address. We normally have one under construction at all times, working on it in evenings and on weekends as weather and life permit. It seems that we get one finished about every 6 to 8 weeks at this casual pace. We've been able to get them built in as little as 5 days, (weekend plus a few evenings,) when the need was very great, (like a pregnant bitch about to whelp.) If we put our lives on hold 2 skilled men could build one in two days, maybe.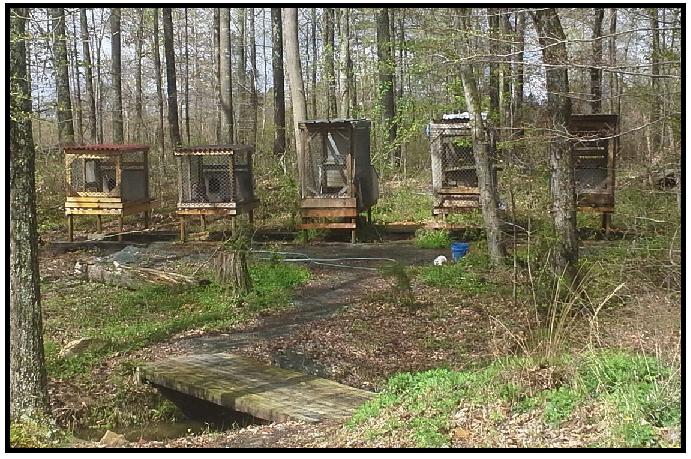 Here is a row of Alcatraz kennels, each slightly different from the others. We couldn't raise dogs without 'em.
Have a look at the following images and explanations and see if the Alcatraz kennel might help address some of the issues you face. Whether you have a small town-house yard or plenty of room with many dogs, once you have an Alcatraz type kennel you'll wonder how you got along without it. Having one on your property seems to solve many problems before they ever come up.
You can copy this design or we'll build one for you with all store-bought materials and bring it to you.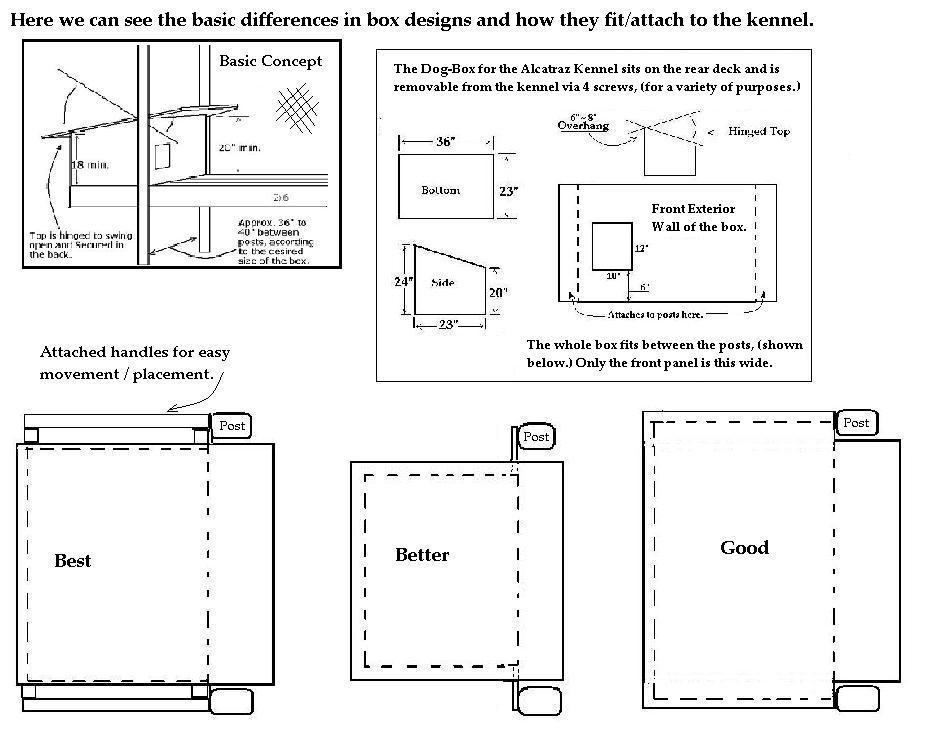 Important Features & Functions.
The features we think are important when we build these kennels are:
Basic security. In over 25 yrs of design-use there have been no escapes reported.
Good health. These kennels are off the ground and easy to keep fairly clean with just a water-hose. Once the dog is cleaned out of internal parasites it is relatively easy to keep him that way. Dogs seem to recover well from illness or trauma in these kennels and this is an excellent method of quarantine when those needs arise.
Portability. These kennels are relatively easy to move around and load or unload from a truck or trailer. You only need two able-bodied men in most cases. However, many hands make light work.

Serviceability. This design allows making changes as the circumstances may dictate. Once you have one of these kennels your imagination will find more ways to take advantage of the many features available for incorporation.
Safety. If you live where there are coyotes or wolves you're strongly advised to have something like an Acatraz kennel in order to keep your dog safe from those wild canines. There are many incidents every year where coyotes and wolves come into back yards and kill dogs that are kept on chains. It's a very real and constant hazard that's getting worse every year in some parts of the country. An Alcatraz Kennel will keep your dog safe.

Special details are limited only by your imagination...and your skill level.

Look carefully at the chain-link in these photos. We fasten it with stainless-steel sheathing staples that are 2-inches long and "shot" in place with a pneumatic staple gun instead of the classic chain link fastening system. It's faster and makes a tighter finished product.
We have kept healthy dogs in these kennels through harsh winters without any casualties, (when the day-time temps are in the 20s (fh) and down into the teens or lower at night.)

We sometimes put heating pads in the floors. It doesn't make the dog-box "warm." It just makes it a little less-cold so the dog can sleep more comfortably.
Oddly, even when there is a heating pad in the floor making enough warmth to feel on the back of your hand, we've seen that the grown dogs clearly prefer to curl-up just inside the doorway ignoring the warm spot just inches away, (except on the very coldest nights.) We think they like being able to raise their head to look outside without having to get up from their curled position. It seems more important to them than being a little warmer. hmmm
Also, we have never known a Patterdale Terrier to tolerate anything hanging in the doghouse doorway as a baffle to wind or cold air. No matter how much warmer it might make the kennel, they fight it non-stop until they've torn it down. No material or method of attaching it can resist the relentless attack of these little dogs.

The following pictures show a kennel under construction. This one features an 8-foot deck area and a somewhat larger dog-box so it can double as a brood-kennel if needed.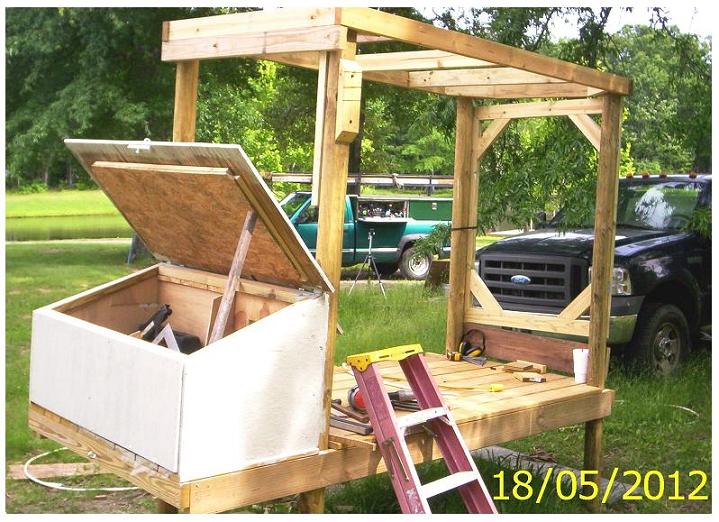 Take note of the roof-to-post relationship on the bigger dog-box, (in the indicated rectangle)...it has never leaked. This box is big enough for 60+ lb dogs if we give the box a little more height.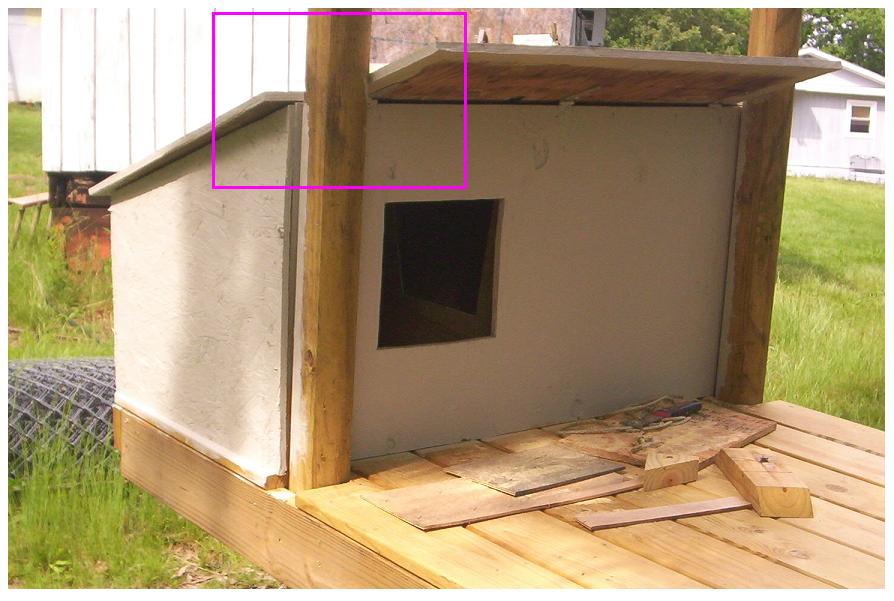 In our experience dogs don't "appreciate" a wind-break wall in the box. (Not at all!) Here is a model with such a wall shortly before moving in an adult bitch-dog.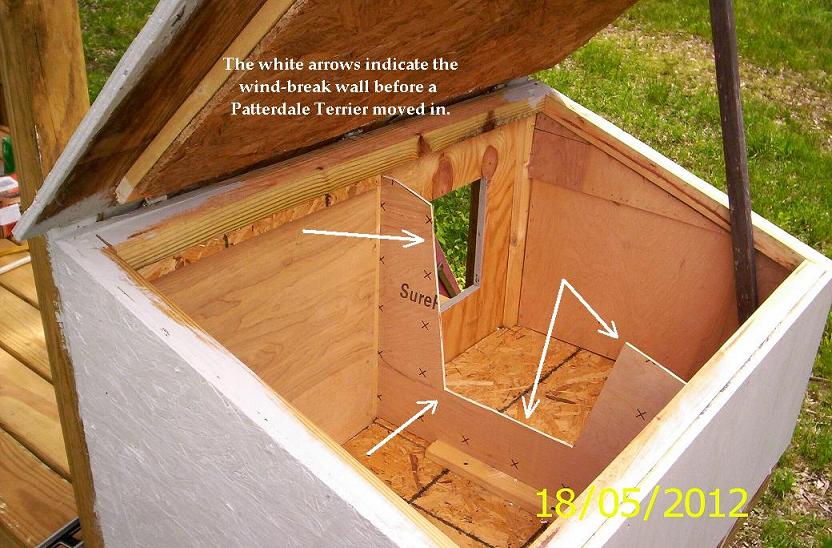 Just 2 weeks later this is how the wind-wall looked.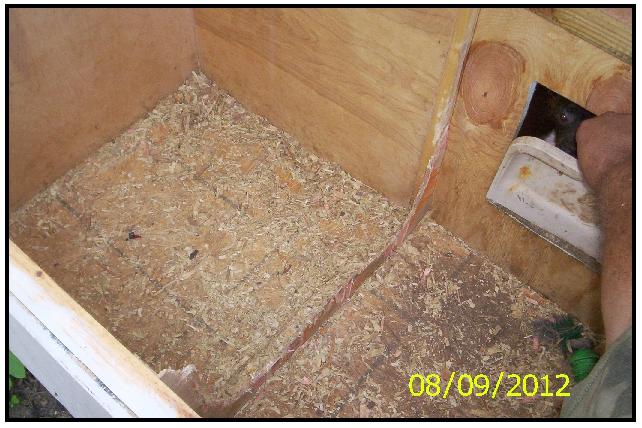 No matter what model, all our Alcatraz kennels have doubled walls, floors and tops that are insulated with cedar chips which helps fight the cold and the heat.
The top can even be propped open slightly to promote air-flow during really hot times.
Once you embrace the concept your imagination is the only limit to this design.
If you constantly get flak for keeping dogs on chains, (a growing trend that isn't going away as our once-great country becomes a nation of sissies and whiny-ass cry-babies,) the Alcatraz design gives these busybodies less to complain about. Remember, the Apostle Peter likened busybodies with robbers and murderers and he's right.

The deck area of this kennel is 6-feet long and slightly less than 4-feet wide. This newer model is rapidly becoming our favorite. Though only 2-feet shorter in length and narrower by just a few inches it's easier to make & maneuver than the 8-foot model. Mobility was a primary requirement for these kennels in the first place. This size fits into more places than the bigger ones. The 6-foot model is less clumsy to move around by hand or to load into a p/u truck. You'll still need at least 2 "able-bodied" men, usually.
Let me make something very clear! We think the 8-ft models [or longer] are better in every way... unless space matters. In the photo just above, the front-end has no door or gate. We think this is an error and strongly recommend that this whole end be made as a functioning door, even when there is a side door as seen in this model. You eventually want the ability to get all-the-way in there.
The roof of this model is Ondura ™, a great roof product and very cheap when a damaged panel is found, (usually about five-dollars instead of the usual $20 for an intact panel.) Some holes don't reduce its utility for a kennel.

If you are within our delivery range we can bring a pup or dog with a kennel as a package deal. A friend talked us into such an arrangement a few years ago and it worked out so well we think others might want to know about it. Our "normal" delivery range is about 300 miles from the junction of US-15 and Interstate-64 in Virginia, (called "Zion Cross-Roads".) Look it up to get an idea of what transportation costs might be.
We'd prefer not to drive more than 6 hours (one way) but we're willing to talk about your needs.

You can spend more money but you cannot get more kennel for your money...unless you build it yourself.

This basic model [shown] has about $300 worth of materials in it (in 2010 money) and about that much in labor.

If you want us to bring one to your place we can do it for the package price plus about one-dollar per-mile (one way.) That's for a one-day round-trip which is very very reasonable these days. If you can find a better deal take it.

If the distance would require an over-night stay it might be cheaper to get a local "skilled man" to build it for you.
We are going to experiment with "Hardi-Board" ™ for the decking material. We think it might help keep the toenails trimmed to a good length. We are also planning to use sheep/goat panels for the fencing. It'll cost a little more but should be quite an improvement. We'll soon see. Watch for updates as we work out those details.

Some additional features you can ask and think about are:
Heat-lamps in the dog-house top which can be replaced with a fan/blower during hot weather. This requires a much taller dog-box design. We won't place a heat lamp any closer than 30 inches to the dog-box floor and we'll insist on making a "dimmer" switch for it whether you care to use it or not.

Heating pad in the floor that just breaks the chill. Doesn't really make it "warm," (a real favorite.)
Lighting, small lights in the dog-house and/or in the kennel.
Switches, timers, circuit-breakers, etc. for all of the above.
Alarm, Audio/visual equipment, silent or noisy.
A wide variety of "tunnel" type entrances to the box, (presumably helps get the dogs accustomed to "entering.")
A wide variety of latching and securing hardware is available though you might prefer to add that yourself. We find that the simplest designs are generally more efficient.

We possess most "trade skills" and can usually figure out how to accommodate any idea if it is really desired.
Just remember, your imagination is the only real limit with an Alcatraz Kennel.